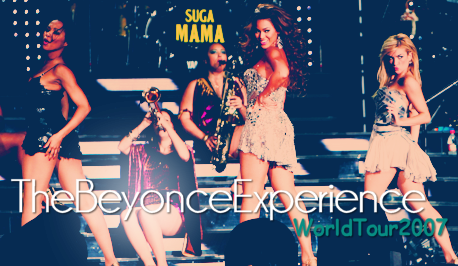 SETLIST:
1. "Crazy In Love" (contains excerpts from " Crazy")
2. "Freakum Dress"
3. "Green Light"
* Jazz Throwdown (Instrumental Interlude)
4. "Baby Boy" (contains a Reggae medley: "Murder She Wrote", "Lost Ones" and "Ring the Alarm")
5. "Beautiful Liar"
6. "Naughty Girl"
7. "Me Myself & I"
* Dangerously in Love (Dance Interlude)
8. "Dangerously In Love" (contains excerpts from "He Loves Me (Lyzel in E Flat)")
9. "Flaws And All"
* Cops and Robbers (Dance Interlude) (contains excerpts from "Party Like a Rockstar", "Wipe Me Down", "A Bay Bay" and "Throw Some D's")
10. Destiny's Child Medley: "Independent Women Part 1", "Bootylicious", "No, No, No", "Bug A Boo" (H-Town Screwed Down Mix), "Bills, Bills, Bills", "Cater 2 U", "Say My Name", "Jumpin' Jumpin'", "Soldier" (contains excerpts from "Crank That (Soulja Boy)"), "Survivor"
11. "Speechless"
* Jailhouse Confessions (Dance Interlude)
12. "Ring The Alarm"
13. "Suga Mama"
14. "Upgrade U"
15. "'03 Bonnie & Clyde" (Beyoncé's Prince Mix)
16. "Check on It"(Special tour version)
17. "Déjà Vu"
* Band Jam (Instrumental Interlude)
* Bumble Bee (Video Interlude)
18. "Get Me Bodied" (Extended Mix)
19. "Welcome to Hollywood" (Video Interlude)
20. "Deena/Dreamgirls Medley"
21. "Listen"
22. "Irreplaceable"
TOUR FACTS:
The Beyoncé Experience is the second concert tour by American singer-songwriter Beyoncé in support to her second solo album B'Day.
The tour kicked off on April 10 at the Tokyo Dome in Tokyo, Japan with the first leg ending in Nagoya. The second leg was in Australia before moving on to the third leg in Europe, beginning in Frankfurt, Germany before going through countries such as Spain, Sweden and Portugal ending the leg with several shows in the UK in cities such as London, Cardiff and Manchester where she performed to her biggest crowd in Europe to 21,000 at the sold out MEN Arena. The third leg ended with two dates at The Point in Dublin.
The US leg of the tour began in July 6 at the Louisiana Superdome in New Orleans, as part of the 2007 New Orleans Essence Music Festival, where Beyoncé headlined. The tour also stops in Mexico (Monterrey City). She then embarkeded on a final leg of the tour in East Asia/Korea. The final concert of the tour took place at the Mandalay Bay Events Centre in Las Vegas on December 31, 2007. The tour, whose sponsors were Samsung and L'Oréal Paris. Beyoncé also did a free concert in Toronto on September 15, 2006.
A show in Kuala Lumpur, Malaysia was canceled due to conflict in dress coding of the country. However, a concert in Jakarta, Indonesia replaced it. The show on October 24 in Istanbul, Turkey was cancelled by the organizer, the sports club Fenerbahçe, due to the terrorist attacks of PKK in Hakkari on September 21, 2007.
The September 2 stop on the tour in Los Angeles, California was recorded for the The Beyoncé Experience Live! DVD. For this show, Beyoncé introduced special guest Jay-Z, who performed with her on the song "Upgrade U". Additionally, during the Destiny's Child medley segment, Kelly Rowland and Michelle Williams joined Beyoncé on stage, briefly reuniting as a group to perform "Survivor".

TOUR PHOTOS:

To view more of these photos, simply click on the ones on top.
TOUR DATES:
Date
City
Country
Venue
Asia
April 10, 2007
Tokyo
Tokyo Dome
April 11, 2007
Osaka
Osaka-jō Hall
April 12, 2007
April 14, 2007
Nagoya
Aichi Prefectural Gymnasium
Australia
April 21, 2007
Sydney
Australia
Acer Arena
April 22, 2007
Brisbane
Brisbane Entertainment Centre
April 24, 2007
Adelaide
Adelaide Entertainment Centre
April 25, 2007
Melbourne
Rod Laver Arena
April 26, 2007
Sydney
Sydney Entertainment Centre
Europe
April 30, 2007
Frankfurt
Germany
Festhalle
May 1, 2007
Stuttgart
Hanns-Martin-Schleyer-Halle
May 3, 2007
Stockholm
Sweden
Stockholm Globe Arena
May 4, 2007
Hamar
Norway
Vikingskipet Olympic Arena
May 5, 2007
Aalborg
Denmark
Gigantium
May 7, 2007
Munich
Germany
Olympiahalle
May 8, 2007
Vienna
Austria
Wiener Stadthalle
May 9, 2007
Zürich
Switzerland
Hallenstadion
May 10, 2007
Milan
Italy
Fila Forum
May 12, 2007
Halle
Germany
Gerry Weber Stadion
May 13, 2007
Berlin
Max-Schmeling-Halle
May 14, 2007
Hamburg
Color Line Arena
May 16, 2007
Paris
France
Palais Omnisports de Paris-Bercy
May 17, 2007
Oberhausen
Germany
König Pilsener Arena
May 18, 2007
Rotterdam
Netherlands
The Ahoy
May 19, 2007
Antwerp
Belgium
Sportpaleis
May 24, 2007
Lisbon
Portugal
Pavilhão Atlântico
May 26, 2007
Madrid
Spain
Palacio de Deportes
May 27, 2007
Barcelona
Palau Sant Jordi
May 29, 2007
Marseilles
France
Le Dôme de Marseille
May 30, 2007
Lyon
Halle Tony Garnier
June 1, 2007
Birmingham
England
LG Arena
June 2, 2007
London
Wembley Arena
June 3, 2007
June 5, 2007
Cardiff
Wales
Cardiff International Arena
June 6, 2007
Nottingham
England
Trent FM Arena Nottingham
June 7, 2007
Manchester
Manchester Evening News Arena
June 9, 2007
Dublin
Ireland
The Point
June 10, 2007
North America
July 6, 2007
New Orleans
United States
Louisiana Superdome
July 7, 2007
Memphis
FedExForum
July 8, 2007
St. Louis
Scottrade Center
July 11, 2007
Monterrey
Mexico
Arena Monterrey
July 13, 2007
Dallas
United States
American Airlines Center
July 14, 2007
Houston
Toyota Center
July 15, 2007
San Antonio
AT&T Center
July 18, 2007
Nashville
Sommet Center
July 20, 2007
Atlanta
Philips Arena
July 21, 2007
Tampa
St. Pete Times Forum
July 22, 2007
Ft. Lauderdale
BankAtlantic Center
July 24, 2007
Orlando
Amway Arena
July 27, 2007
Hampton
Hampton Coliseum
July 28, 2007
Raleigh
RBC Center
July 29, 2007
Charlotte
Charlotte Bobcats Arena
July 31, 2007
Albany
Times Union Center
August 1, 2007
Uncasville
Mohegan Sun Arena
August 3, 2007
East Rutherford
Continental Airlines Arena
August 4, 2007
New York City
Madison Square Garden
August 5, 2007
August 8, 2007
Baltimore
1st Mariner Arena
August 9, 2007
Washington, D.C.
Verizon Center
August 10, 2007
Philadelphia
Wachovia Center
August 11, 2007
Atlantic City
Mark G. Etess Arena
August 12, 2007
Boston
TD Banknorth Garden
August 14, 2007
Montreal
Canada
Bell Centre
August 15, 2007
Toronto
Air Canada Centre
August 17, 2007
Detroit
United States
The Palace of Auburn Hills
August 18, 2007
Chicago
United Center
August 19, 2007
Cleveland
Quicken Loans Arena
August 22, 2007
Denver
Pepsi Center
August 24, 2007
Phoenix
US Airways Center
August 25, 2007
Las Vegas
MGM Grand Garden Arena
August 26, 2007
San Diego
Cox Arena at Aztec Bowl
August 28, 2007
Fresno
Save Mart Center
August 30, 2007
Stateline
Harveys Outdoor Arena
August 31, 2007
Oakland
Oracle Arena
September 1, 2007
Anaheim
Honda Center
September 2, 2007
Los Angeles
Staples Center
September 7, 2007
Vancouver
Canada
GM Place
September 8, 2007
Portland
United States
Rose Garden
September 10, 2007

[

4

]

Boise
Taco Bell Arena
September 11, 2007
Spokane
Spokane Veterans Memorial Arena
September 13, 2007
Edmonton
Canada
Rexall Place
September 14, 2007
Saskatoon
Credit Union Centre
September 15, 2007
Winnipeg
MTS Centre
Europe
October 17, 2007
Moscow
Russia
Olimpiysky
Africa
October 20, 2007
Addis Ababa
Ethiopia
Millennium Hall
Europe
October 22, 2007
Cluj-Napoca
Romania
Stadionul Ion Moina
Asia
October 27, 2007
Mumbai
India
MMRDA Grounds
October 30, 2007
Bangkok
Thailand
Impact Arena
November 1, 2007
Jakarta
Indonesia
JITEC Arena
November 3, 2007
Macau
Macau
Venetian Arena
November 5, 2007
Shanghai
China
Shanghai Indoor Stadium
November 7, 2007
Manila
Philippines
Fort Bonifacio
November 9, 2007

[

5

]

Seoul
South Korea
Olympic Gymnastics Arena
November 10, 2007
November 12, 2007
Taipei
Taiwan
Zhongshan Soccer Stadium
North America
December 30, 2007
Las Vegas
United States
Mandalay Bay Events Center
United States
October 2, 2008
Bermuda
United States
National Sports Centre [a]
[a] This Concert was a part of the Bermuda Music Festival .
ADDITIONAL NOTES
– In Japan, "Flaws and All" was not performed. "Get Me Bodied" was performed after "Check On It."
– "Speechless" was added to the setlist during the April 21st performance at the Acer Arena
– In the first week of shows in the United States, and all shows prior to, "Get Me Bodied" was performed immediately after "Check On It." Beginning with her Houston show, Beyoncé performed a "bumble-bee" version of "Get Me Bodied."
– The setlist changed at the show in San Antonio, Texas
– In Australia and Europe and the first week of shows in the United States, "Deja Vu" was the last song performed.
– After the change of "Deja Vu" in the setlist, the dress was removed.[2]
– During the Europe (except Germany and the UK) and Middle East leg of the tour, "Speechless" was not performed.
– For the North American leg and so on the band costumes changed.
– During her performance in Orlando July 24, while walking down the stairs performing "Ring the Alarm", Knowles' heel got caught in her jacket and she tripped down a flight of stairs. The incident became a hit on YouTube, and appeared on CNN.[3]
– During most concerts of the Africa/Europe/Asia leg of the tour, there was no break between "Green Light" and "Baby Boy." There was no costume change until before "Dangerously in Love."
– In the Asia leg of the tour, "Flaws and All", "Speechless", "Suga Mama", "'03 Bonnie & Clyde", and "Get Me Bodied" were not performed.
– In India, Beyoncé performed "Dangerously In Love" in a sari, a traditional dress for Indian women.
– In her concerts in Spain–Madrid and Barcelona–Beyoncé sing the Spanish version of "Irreplaceable", aka "Irreemplazable."
– On the album version of "Suga Mama", Beyoncé begins the song by saying, "Damn that was so good, I wanna buy him a short set." However, Beyoncé changed that line several times during her tour. Most often, it was changed to "Damn that was so good, I wanna make you some Hamburger Helper."
– During her performance in Toronto on August 25, while dancing performing Déjà Vu, Beyoncé's dress flew over her head not revealing her breast but in fact a skin-coloured bra.