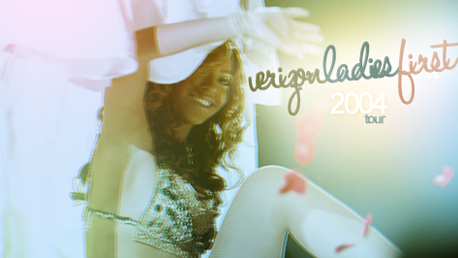 SETLIST:
1. "Baby Boy"
2. "Naughty Girl"
3. "Me, Myself and I"
4. "Say My Name"
5. DC Medley: "Independent Women Part I", "Bootylicious", "Say My Name", "'03 Bonnie & Clyde", "Jumpin', Jumpin'", "Survivor"
6. "Hip Hop Star"
7. "Gift from Virgo"
8. "Be with You"
9. "Speechless"
10. "Summertime"
11. "Dangerously in Love 2"
12. "Crazy In Love"

TOUR FACTS:
Verizon Ladies First Tour is a 2004 concert tour by American R&B-soul singers Beyoncé and Alicia Keys and American rapper Missy Elliott, with Canadian singer Tamia as their tour guest.
The show toured around the United States and was co-sponsored by Steve Madden and L'Oréal.
Even though the tour was never released as an dvd or cd set, there are multiple clips of the tour.

TOUR PHOTOS:


To view more of these photos, simply click on the ones on top.
TOUR DATES:
Date
City
Country
Venue
March 12, 2004
Fort Lauderdale, Florida
United States
Office Depot Center
March 14, 2004
New Orleans, Louisiana
New Orleans Arena
March 15, 2004
Dallas, Texas
American Airlines Center
March 17, 2004
San Antonio, Texas
SBC Center
March 18, 2004
Houston, Texas
Reliant Stadium [A]
March 21, 2004
Greensboro, North Carolina
Greensboro Coliseum
March 23, 2004
Philadelphia, Pennsylvania
Wachovia Center
March 24, 2004
Boston, Massachusetts
Fleet Center
March 26, 2004
Hampton, Virginia
Hampton Coliseum
March 27, 2004
Charlotte, North Carolina
Charlotte Coliseum
March 28, 2004
Atlanta, Georgia
Philips Arena
March 29, 2004
Cleveland, Ohio
Gund Arena
April 1, 2004
Minneapolis, Minnesota
Target Center
April 2, 2004
Rosemont, Illinois
Allstate Arena
April 3, 2004
Detroit, Michigan
The Palace of Auburn Hills
April 6, 2004
Pittsburgh, Pennsylvania
Mellon Arena
April 9, 2004
Hartford, Connecticut
Hartford Civic Center
April 10, 2004
Uniondale, New York
Nassau Coliseum
April 11, 2004
Washington, DC
MCI Center
April 12, 2004
New York City, New York
Madison Square Garden
April 15, 2004
Phoenix, Arizona
America West Arena
April 16, 2004
Las Vegas, Nevada
Mandalay Bay Events Center
April 17, 2004
Anaheim, California
Arrowhead Pond of Anaheim
April 18, 2004
Oakland, California
Oakland Arena
April 19, 2004
Anaheim, California
Arrowhead Pond of Anaheim
April 20, 2004
Los Angeles, California
Staples Center

[A] Only Beyoncé (with Michelle Williams of Destiny's Child as opening act) at this date.
ADDITIONAL NOTES
– There were no additional notes for this tour.