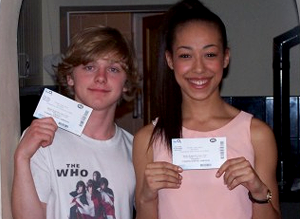 WAS it or wasn't it the real Beyoncé spotted at Newbury Retail Park on Saturday afternoon?
Well, two teenagers from Newbury say it was the 17-times Grammy award winning singer/songwriter – and they have concert tickets to prove it.
Rob McGuire spoke to the American superstar, who is currently on the European leg of her Mrs Carter Show world tour, and less than an hour later he had two tickets to the sold-out gigs delivered to his home.
Sixteen-year-old Rob was in the car park at 3pm when he spotted Beyoncé. He said:

"She had bodyguards with her. She was wearing dark glasses and a hooded top, but I was fairly positive it was her.

"I called my friend because she is a huge fan. I didn't want to be rude and just walk up to her. But then she walked right near me. I looked at one of the bodyguards and he looked at me, and then I looked at Beyoncé and just asked 'would you speak to my mate, she's your biggest fan?' and she took the phone."
Although the people with Beyoncé were asking shoppers not to take photos, the former lead singer of Destiny's Child seemed happy to take the phone. (Continue reading… )