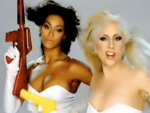 There's been a whole load of drama over Lady Gaga's sold out concert in Jakarta, with religious groups condemning the star's provocative outfits and raunchy dance routines and saying they wanted the gig cancelled.
Four hours prior to the second night of her two-day concert at the Mall of Asia Arena in Pasay City. American Grammy winner singer-songwriter Lady Gaga tweeted:
"And don't worry, if I get thrown in jail in Manila, Beyonce will just bail me out. I love it here!"
On the first night of her concert, neither the prayer vigil held against her just outside the SM Mall of Asia Arena nor the show being put under threat of cancellation – if it proved to be "offensive to morals and good customs" – stopped Lady Gaga from staging a performance where she sometimes simulated sex acts, "gunned" down people onstage, and mouthed expletives.
One hard-line group, the Islamic Defenders even threatened violence and said they were willing to lose their own lives to stop it going ahead, which seems a bit drastic. Because of this, the national police refused to grant a permit , fearing a massive headache when it came to security, understandably.
The hour and a half "The Born This Way Ball" held in Manila May 21 and 22 certainly made jaws drop not only for its elaborate costumes, stage design and music arrangements, but for pushing the envelope in direct defiance of her critics' call against her image and music. Lady Gaga sang with extra aplomb the songs "Judas" and "Just Dance" that have been alleged to be "blasphemous" and "promoting homosexuality and pornography," respectively, by several groups here and in Indonesia and South Korea a few days ago.