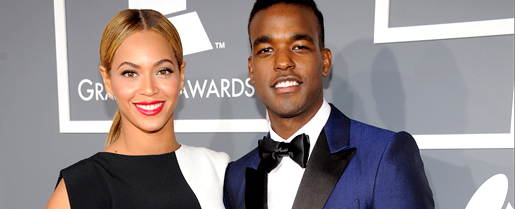 Luke James is packing his bags and heading overseas. Beyoncé has personally chosen the New Orleans singer as the opening act for the European leg of "The Mrs. Carter Show World Tour."
He will join the pop icon beginning April 24 in Paris, France, through May 29 in Stockholm, Sweden, with the exception of Oslo, Norway.
"Luke James is a gifted singer and songwriter and what he does on stage with his pure falsetto is incredible," said Beyoncé. "I am excited to have him join the tour and to introduce this soulful singer to an audience in Europe that will be discovering a true star."
Luke was the opening act for all four of Beyoncé's shows at Revel in Atlantic City last summer and was featured in her video for "Run the World (Girls)."
"It is such an unimaginable honor to be sharing the light yet again with Beyoncé on her sold out Mrs. Carter Show World Tour," said Luke, who is co-managed by Beyoncé's creative director Frank Gatson Jr. "This is a blessing that I do not take lightly. Thank you, Beyoncé."
Luke has been working on his pre-album Whispers in the Dark and his upcoming N.A.R.S./Island Def Jam debut, Made to Love. He will also appear in the upcoming film Black Nativity co-starring Angela Bassett, Forest Whitaker, Jennifer Hudson, and Mary J. Blige.
Beyoncé kicked off her tour earlier this week in Belgrade, Serbia. She will make her way through Europe before heading to the U.S. on June 28.
"The Mrs. Carter Show World Tour" Dates with Luke James
April 24 – Paris, France – Palais Omnisports de Paris-Bercy
April 25 – Paris, France – Palais Omnisports de Paris-Bercy
April 26 – Birmingham, UK – LG Arena
April 27 – Birmingham, UK – LG Arena
April 29 – London, UK – The O2
April 30 – London, UK – The O2
May 1 – London, UK – The O2
May 3 – London, UK – The O2
May 4 – London, UK – The 02
May 5 – London, UK – The 02
May 7 – Manchester, UK – Manchester Arena
May 8 – Manchester, UK – Manchester Arena
May 9 – Manchester, UK – Manchester Arena
May 11 – Dublin, Ireland – The O2
May 12 – Dublin, Ireland – The O2
May 14 – Antwerp, Belgium – Sportpaleis Antwerpen
May 15 – Antwerp, Belgium – Sportpaleis Antwerpen
May 17 – Zurich, Switzerland – Hallenstadion
May 18 – Milan, Italy – Mediolanum Forum
May 20 – Montpellier, France – Park & Suites Arena
May 22 – Munich, Germany – Olympiahalle
May 23 – Berlin, Germany – O2 World
May 24 – Berlin, Germany – O2 World
May 27 – Copenhagen, Denmark – Forum
May 29 – Stockholm, Sweden – Ericsson Globe Arena
Source: RapUp.com