It looks like Beyonce is back at it. The 4 singer was captured in the studio with none other than Mr. Carter himself. Writer and artist Jo'zzy from Timbaland's crew posted a picture of the couple hard at work in the studio.
"THIS IS WHO I'M LOOKING AT RIGHT NOW! JAY Z AND BEYONCE #BLESSED TO BE HERE," she wrote.
She was later forced to remove the tweet and photo after getting overrun by Beyonce's fans.
In addition to working with Timbaland and crew on her next album Miguel also revealed that he spent some time in the studio with the singer.
He posted  pictures of them and told MTV News, "I heard it from my team, and I was like, 'Are you serious?' 'Are you sure?' 'Are we talking about the Beyoncé? And after taking a second to confirm and double confirm and triple confirm, I'm excited to hear the direction of her new material, and hopefully come up with something that's really special and really showcases her perspective."
Besides working on her new album, Bey is keeping busy these days by prepping her February HBO special, which debuts shortly after the "Single Ladies" star performs her first halftime Super Bowl show.
Bey and Jay have been spending plenty of time courtside at Nets games over the past couple of weeks.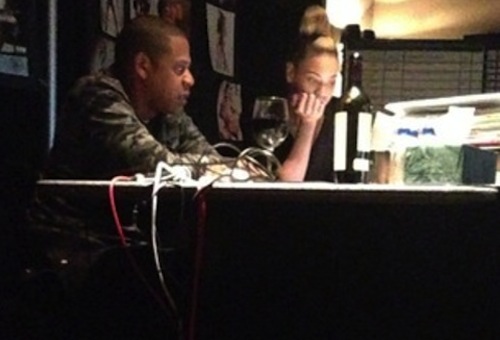 MTV News