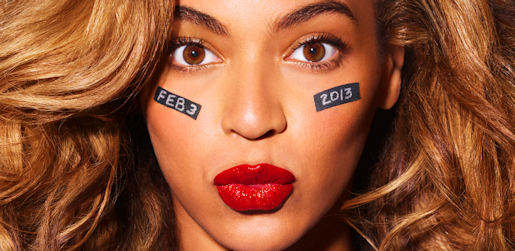 Pepsi is giving Beyoncé's biggest fans a chance to join the Grammy-winning diva on stage at the 2013 Super Bowl. Beyoncé revealed she would be headlining the infamous halftime show via Twitter back in October by posting a pic with the Super Bowl's date in football paint on her face. According to the Associated Press, now 100 lucky fans will be selected to appear at the Mercedes-Benz Superdome in New Orleans with the singer as well as in a TV ad introducing the performance.
Starting this Saturday, fans can submit photos of themselves in various dance poses — these can be anything from head bopping to "Sasha Fierce" worthy moves — and those photos will appear in the ad. From the photos, 50 people will be selected along with a friend to join Bey herself on stage.
The photo contest ends Jan. 19, but Jan. 11 is the cut-off date for those interested in appearing onstage with Beyoncé. You can enter here: www.pepsi.com/halftime.
Source: BET.com