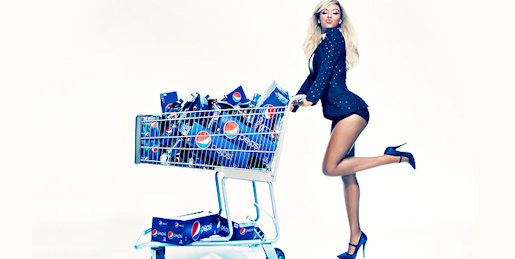 FOR its campaign with Beyoncé next year, Pepsi doesn't just want to sign up the telegenic pop star for another TV commercial. It also wants to get into the Beyoncé business.
In an expansion of the recent marketing experiments that have brought PepsiCo ever closer to the music industry, the company has embarked on a hybrid project with Beyoncé that will include standard advertising like commercials as well as a multimillion-dollar fund to support the singer's chosen creative projects.
"Pepsi embraces creativity and understands that artists evolve," Beyoncé said in a statement. "As a businesswoman, this allows me to work with a lifestyle brand with no compromise and without sacrificing my creativity."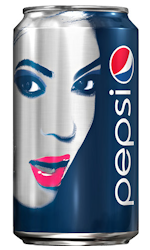 The campaign will coincide with a blitz of promotion for her next album, which has no title or release date so far but is expected in 2013. Sometime after she performs at the Super Bowl halftime show on Feb. 3 (also sponsored by Pepsi), Beyoncé will appear in a new TV ad — her fifth for the soft drink since 2002 — and her face will be on a limited-edition line of soda cans.
The less conventional aspects of the deal are meant as collaborative projects that indulge Beyoncé's creative whims, and might well have no explicit connection to Pepsi products. They are still at the brainstorm stage, but could include live events, videos, "a cool photo shoot" or almost anything else, said Lee Anne Callahan-Longo, the general manager of Parkwood Entertainment, Beyoncé's company.
For Pepsi, the goal is to enhance its reputation with consumers by acting as something of an artistic patron instead of simply paying for celebrity endorsements.
"Consumers are seeking a much greater authenticity in marketing from the brands they love," said Brad Jakeman, president of PepsiCo's global beverage group. "It's caused a shift in the way we think about deals with artists, from a transactional deal to a mutually beneficial collaboration."
The multiyear campaign is estimated at $50 million, the bulk of it for media placements and promotions around the world, and the remainder split roughly equally between Beyoncé's fee and what Pepsi calls a creative content development fund.
According to the tracking firm Kantar Media, PepsiCo and its archrival the Coca-Cola Company each spent about $148 million in the United States to advertise their soft drink brands in the first six months of 2012, across all measured forms of media, like television, print, digital and radio.
Over the last decade many consumer brands have been taking more active roles with artists, particularly in pop music. Converse, Red Bull and Toyota's Scion line, for example, have become as familiar in the music business as any label or concert promoter by paying to help create and promulgate music.
Bands always risk fan disapproval when shaking hands with big corporations. But with record company budgets diminished, Madison Avenue money is often seen as essential. PepsiCo has been part of this trend through Green Label Sound, a label financed through its Mountain Dew drink, which over the last four years has paid to release free music by under-the-radar groups like Matt & Kim and the Cool Kids.
"We recognize that there have been massive disruptions in music industry: lower investment in artist development, fewer points of distribution, financial constraints," said Frank Cooper, a top marketing executive in PepsiCo's beverage division who has been a force for such projects. "We look at those disruptions as opportunities for Pepsi."
These deals are not limited to music. In 2010, Jay-Z (Beyoncé's husband) teamed with Microsoft to promote his memoir, "Decoded." According to a case study led by Anita Elberse, a Harvard Business School professor, the publisher could contribute only $50,000 for marketing, but Microsoft paid $2 million for an elaborate scavenger hunt that promoted the book as well as its new search engine, Bing.
For Jay-Z, the campaign was a success. But the effect of such deals on corporate partners like Microsoft is hard to measure, Professor Elberse said in an interview last week. "Even if they see an increase in market share," she said, "it's hard to attribute that to this one thing they did with a star at one point in time."
Mr. Cooper, however, was confident that its music projects, like "Tonight Is the Night" by the little-known rapper and singer Outasight — which sold 1.1 million copies after a push in 2010, when the song was featured in a commercial and Outasight appeared on the Pepsi-sponsored show "The X Factor" — bring a return on investment. "We believe all that transfers into brand equity for Pepsi, and, ultimately, sales," he said.
Pepsi's deal with Beyoncé is an outgrowth of ventures like Green Label Sound, but on a scale befitting her superstar stature.
In addition to the commercial — a collaborative effort between 180 LA, TBWA/Chiat/Day Los Angeles and Organic, all part of the Omnicom Group — and the soda can, the deal will involve sponsorship of Beyoncé's world tour next year.
All the standard sponsorship elements will be present on the tour, like prominent Pepsi logos. That kind of marketing, Mr. Jakeman said, is "still important, but insufficient" to reach savvy young consumers. So Pepsi will also play a role in selecting local talent as opening acts at various points around the world.
And who knows — a concert stage would seem a perfect spot for some fund-supported video or social-media experiment.
"It's wise for a brand like Pepsi to give an artist the ability to truly express herself," said Ms. Callahan-Longo, of Beyoncé's company, "instead of just the old-school way of, 'Do you want to be in an advertisement?' "
"This is much bigger," she added. "This is, 'How can we create something together that is truly unique?' "