The day has finally come!
Beyoncé
first show of
'The Mrs. Carter Show"
kicks off tonight-in Belgrade, Serbia at the Kombank Arena. Its been three years since Beyoncé wrapped her I Am…World tour, but now she is back with a vengeance! If you thought her Super Bowl performance was the best thing since sliced bread, then think again. Because we love you so much BW will be giving you live coverage of the first show. We will be all hands on deck once the lights go off and the crowd erupts into a frenzy for none other then, Beyoncé Giselle Knowles – Carter.
This post will be updated throughout the entire show. Make sure you keep refreshing the page for recent update and also follow us on Twitter for live in the moment updates. If you are attending the show tonight and would love to lend a helping hand with coverage tweet @TheBeyonceWorld with your update, and we will be sure to add your news to the post along with the rest.
Beyonce updated her instagram with a rehearsal photo earlier this morning that you can check out by clicking here.
Fans are currently lined up at the venue waiting for the doors to open which you can see here.
Beyonce has updated her Tumblr with a few rehearsal photos
Fans are finally in with a little under an hour and a half till show time!
Here is a photo of the main stage as well as the 'B' stage which both look AMAZING!
The arena is half way full and the show is set to start very soon
Take a look at Serbian news covering Beyonce's opening night right here
Is Beyoncé ready? Looks like it here
Showtime! Are you read? Turn Up #Beyhive!
Look at this crowd!!! 
Kevin Costner (from The Bodyguard) spotted at the concert in the Bey Stage here.
Beyoncé's dancers take the stage, click here to see.
Beyoncé on stage now, click here to see.
Beyoncé started crying during Flaws and All.
Beyoncé on stage
Beyoncé's outfit for Diva
Beyoncé performing Party.
Beyoncé during Dance For You
Beyoncé during I Care
The set for Why Don't You Love Me?
Beyoncé in the Pit
After singing 1+1 Beyoncé makes her way to the Bey Stage
1st HQ image of Beyoncé on stage
Beyoncé during Single Ladies
here are a few photos from the concert! Stay tuned for more.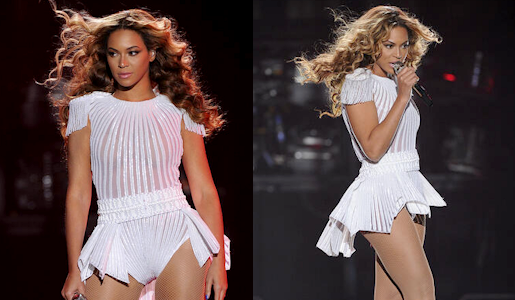 Set list:
Interlude
Baby Boy Video
Diva Video
Naughty Girl Video
Party
Dance For You
Interlude
Freakum Dress Video
I Care Video
If I Were A Boy Video
I Miss You
Schoolin' Life Video
Why Don't You Love Me? Video
Upgrade U
1+1 Video
Irreplaceable (Bey Stage) Video
Resentment (Bey Stage)
Love On Top (Bey Stage) Vídeo
Survivor (Bey Stage) Video
Single Ladies
I Was Here
Greenlight (Outro)
Well the show is now over and we hope you guys enjoyed or updates throughout the show. Hope everyone who attended the show today had a great time! Also don't forget to join our fan project for Beyoncé! You can find all the details on that above.