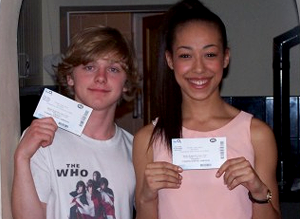 WAS it or wasn't it the real Beyoncé spotted at Newbury Retail Park on Saturday afternoon?
Well, two teenagers from Newbury say it was the 17-times Grammy award winning singer/songwriter – and they have concert tickets to prove it.
Rob McGuire spoke to the American superstar, who is currently on the European leg of her Mrs Carter Show world tour, and less than an hour later he had two tickets to the sold-out gigs delivered to his home.
Sixteen-year-old Rob was in the car park at 3pm when he spotted Beyoncé. He said:
"She had bodyguards with her. She was wearing dark glasses and a hooded top, but I was fairly positive it was her.

"I called my friend because she is a huge fan. I didn't want to be rude and just walk up to her. But then she walked right near me. I looked at one of the bodyguards and he looked at me, and then I looked at Beyoncé and just asked 'would you speak to my mate, she's your biggest fan?' and she took the phone."
Although the people with Beyoncé were asking shoppers not to take photos, the former lead singer of Destiny's Child seemed happy to take the phone.
Beyoncé's 'biggest fan' is 17-year-old Brandy Funderburk, who said:
"I was saying to Rob, 'you can't do nothing, this is a once-in-a-lifetime chance'. I could hear him talking… it went quiet and then suddenly I heard Beyoncé and she was asking me my name.

"I knew it was her from her voice. I've seen countless interviews, all her films, videos, songs, so I know her voice. I talked to her for about a minute, I don't really know what I said, just off on one telling her how much of a fan I was. My heart was pounding, I was bright red, and I felt faint."
Beyonce had baby Blue Ivy – who Brandy informed the Newbury Weekly News was named Ivy because her favorite number is four, and IV is four in Roman numerals – with her, and Rob said that he was doubly impressed that the she stopped to speak because of that.
"I wasn't really nervous," he added, "but just excited to speak to her. I thought she would just walk past."
Brandy, who on the same day as the call had lost out bidding for a pair of tickets on the internet, which sold for more than £500, said:
"I told Beyoncé that I'd been trying to get tickets for ages, and asked her was there any way to get them – and she said we could have two. It was amazing. It was so nice of her. She said she would have someone bring them round within four hours. I don't know if I was really expecting the tickets to turn up."
Rob added:
"I was at home, there was a knock on the door and Beyoncé's assistant was on the doorstep. I wanted to hug her – but I didn't. I wasn't sure about telling people, I didn't want to seem ungrateful, but I really wanted to tell them thanks. People still don't believe it.
The lucky pair were given tickets for an O2 date – but Rob has decided to let Brandy go with her mum because they have been trying to get tickets since they went on sale in mid-February.
Rob said:
"I would have liked to have gone, but it means so much to Brandy."
The pair said that they wanted to thank Beyoncé and her staff, and they felt really lucky to have been given tickets, and Rob's family said that they were very proud of the way he handled it.
And on a scale of one-to-10, how excited is Brandy about the concert next week? "4,000," she said, "because that includes Beyoncé's favourite number. I can't stop smiling."