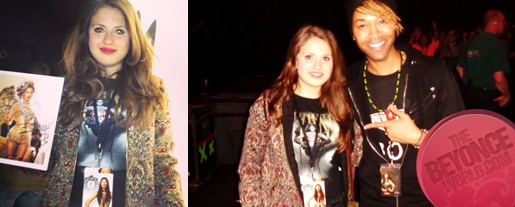 Cute BeyHive member Gunes attended 'The Mrs. Carter Show' world tour last night in Amsterdam. Check out what she had to say about her awesome experience below:
Wow, I don't even know where to begin, but I had the best experience ever. I had VIP tickets (Dance 4 U package) and I was so close to Beyoncé! I was in the BeyHive Pit and touched Bey a few times. She's sooooo beautiful!!!! There was a pre-party before the show. It wasn't a huge party, but there were drinks, food and music. You could also take pics in the photobooth. The whole room was full of Beyoncé. There were huge pictures and displays of Beyoncé. I left the party earlier for a good spot in the BeyHive Pit. (we asked our VIP concierge if they could lead us to the stage) Eva Simons was the opening act. I'm not a fan of her music, but she was okay. After Eva Simons finished, there was a moment I ended up backstage with the dancers and the opening act. The dancers were preparing for the show and I wanted to say 'Hi', but I didn't want to disturb them, Ashley (Everett) smiled at me though! And then it was time for Beyoncé. The intro was so cool. They showed a video (with the I Been On opera vocals) and then Bey came to the stage..that moment was magical. I can't even describe it, but I think it's her best intro yet! Every single performance was vocally amazing!!! She ALWAYS gives her 100% at every single show. I also met met Ty & Miss Tina, they were really nice. I took a pic with Ty.

Even though the VIP packages are very expensive, I have to say it's an amazing experience. I will never forget this day, she said that we were an amazing audience! I can't even remember everything right now, it went by so fast… the whole show is amazing… her best tour in my opinion…she really is the best performer of ALL TIME!!!! Can't wait to see her again!!!!
Be sure to follow Gunes on twitter! If you want to be featured on the site with a review from the tour just email us at BwFanBook@gmail.com and tell us about your full experience! Check out more of Gunes great photos by clicking the link