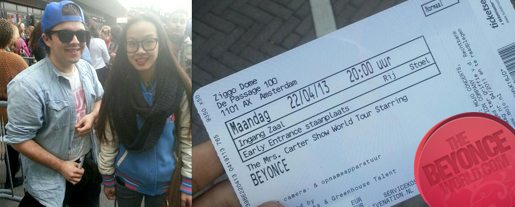 Mr. Jur got the chance to feel the heat that is Beyonce when she did her second show for Amsterdam last night. Read all about his experience below:
Seeing Beyoncé live has always been one of my biggest dreams, so when the pre-sale was anounced I've purchased an early-acces floor ticket, the best thing I've ever done. I went to the show on April 21st but I had a seat ticket then, so the EA ticket was the best thing to make that dream come true.

I left my house early to go to the Ziggo Dome, the square in front of the Dome was 10 hours for the show very crowded and when talking to other fans time went by so fast. Because of my early acces we had acces to the Dome 30 minutes before the other people, so we had the best places you could ever imagine. I've stood in front of the stage, 1 meter away from Bey! When the supporting act ended as the crowd then yelled for Bey, and they did a wave for her.

The moment she came on I had goosebumbs everywhere, she nailed every song, every choreography, every move. She looked stunning in every outfit, and she made me the happiest person on earth for one evening. The video intro's between the songs where amazing! When she flew to the Beystage she looked like an angel, and you may say that she is the Queen of pop, and there is no other artist who can reach the spot Bey is standing at the moment.
The best night of my life, with the greatest, sweetest, and most perfect woman in the world.
Be sure to follow Jur on twitter! If you want to be featured on the site with a review from the tour just email us at BwFanBook@gmail.com and tell us about your full experience! Check out jur's great fan photos by clicking the link