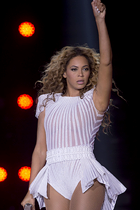 It's when Beyoncé shows she can fly, too, that my doubts momentarily crack. She has the help of an elegant trapeze on a zip-wire, it's true, but as she zooms through the air in a glittering body-suit above tens of thousands of gawping fans, landing amongst them in mere seconds, it's hard not to cheer.
The royal purple of that outfit suits Beyoncé Knowles. She is an imperial star these days, the reigning queen of pop.
Before she even appeared in Birmingham in the first week of her latest world tour, a video prelude showed her as a powdered Marie Antoinette. The statuesque hauteur with which she soon tosses a carefully sweat-stained towel into the crowd, unsmiling and barely flexing an arm let's you know who's in charge. When she stomps her foot to signal the start of "End of Time", a Godzilla clang then rings through the arena. From her regularly tossed, leonine mane to her thickly muscled athlete's legs, she has honed her body into a force of nature to match her cybernetic version of R&B's relentless, cold momentum.
And the Amazonian strength of her presence, a sort of feminine macho, gives the feminist intent of "Run the World (Girls)" some credence. Even as she runs through the gamut of scantily-clad male showgirl fantasies, it's the girls filling this place who gawk and adore her.
Beyoncé follows every current stadium trend tonight, crossing big-budget movie clips and Broadway musical dance moves, with platoons of backing singers and dancers acting as extras. As the Marie Antoinette conceit plays out on screen, the fireworks shower down and ballerinas and male marionettes cavort, this is pop as a Cecil B. DeMille spectacle.
Whether she bothered to sing live for her friend President Obama's recent inauguration, as many suspect she didn't, isn't relevant here. Her voice is anyway a more sparingly deployed thunderbolt than her melisma-mad idols Mariah Carey and Whitney Houston, and she rides "1+1"'s blowsy ballad well, just before she steps from the top of the piano she's lounging on into that trapeze. But the potential poignancy of the exposed human voice isn't needed in this show's slick barrage.
Beyoncé indicates a maze of personas on-stage: swaggering "Diva", the sweetly giving wife of "End of Time", the "bitch in the afternoon" of "Flaws And All", a gender-teasing mic-stand-straddler in "If I Were A Boy".
They are all interchangeable, unconvincing masks for a basically bland star. The religious Texan girl who followed her dreams in Destiny's Child and married her hip-hop prince, Jay-Z, is somewhere under there. But what makes this show's largely enervating juggernaut breathe is Beyoncé's tireless physical effort.
She has created a literal body of work. Gaze on it, ye pop mighty, and despair.