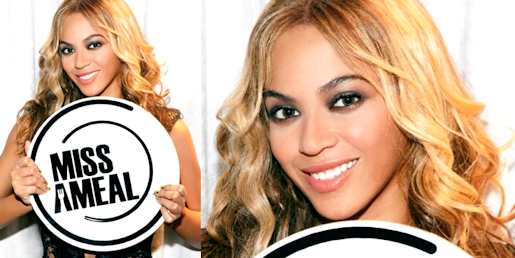 More than 50 million Americans go hungry every day. With those despairing statistics, fashion designer Tina Knowles and daughters Beyonce and Solange joined forces with Bread of Life, Inc. to make a difference. The Houston-based non-profit organization founded by Rudy and Juanita Rasmus aims to fight for the needs of the less fortunate with the fundraising campaign Miss A Meal.
"When we say 'we are starving,' we have to remember that there are people who are literally starving. If everyone fed one person, one meal, we could make a huge difference," says Tina Knowles. "To miss one meal is a small sacrifice to make in the fight against hunger."
According to a recent study, Harris County families struggling to keep food on the table have a food budget shortfall of $12.97 per week, per person. To fill the meal gap, $277 million is needed annually to ensure that every person has three meals a day. The Miss A Meal initiative is designed to meet the needs of the hungry by encouraging people to miss a meal and pass the plate by donating the money they would have spent. The donation is then used to feed those who are less fortunate.
"I was 13 and my sister Solange was 8 when we started donating and serving meals to the homeless after church," says Beyonce. "There were people from all walks of life, even children, who needed a meal. We learned that we are all three paychecks away from poverty. It was a lesson in humility for all of us." Solange adds, "There are dozens of memories of me and my sister volunteering at Bread of Life, we got to see firsthand how grateful people were to receive a hot meal. For many people this was their only meal of the day and we learned early on not to take anything for granted. I'm passing on those same lessons to my son Julez."
What started as an idea sparked by indie recording artist Cy Jackson's song "Heartbeat" has blossomed into a growing movement against hunger. Miss A Meal encourages people to donate as little as one dollar, which in turn can provide one well-balanced meal through Bread of Life.
Through their Bread of Life non-profit 501(c)(3) organization, Pastor Rudy and Juanita Rasmus have been providing solutions for the hungry and homeless in Houston, TX for the past 21 years. Bread of Life serves 14,000 meals per month and through a Community Wide Food Fair and Senior Supplemental Food Program; they distribute 9 tons of fresh food and produce every Wednesday. Additional programs include medical services, job development and placement, case management, recovery groups, drug and alcohol counseling, life skills training, The Culinary Art Program, The Art Project Houston and the Knowles-Temenos Place Apartments. "We must continue to build bridges through our community," says Pastor Rudy. "Each of us has the power to change another's life just by passing the plate. It only takes one plate!"
The Knowleses are inviting national and local celebrities to pass the plate and take a stand against hunger. Together everyone can make a difference, one person at a time. Those wishing to pass the plate can donate by texting "50555" or by visiting www.missameal.net.
To view additional "Miss A Meal" images, click here: http://missameal.net/oneplate.html.
For additional information on where to donate and how to get involved, visit www.missameal.net or join in on Facebook at www.facebook.com/missameal and on Twitter at twitter.com/missameal.
ABOUT BREAD OF LIFE, INC. Founded in 1992 by Pastor Rudy and Juanita Rasmus as a mission of St. John's United Methodist Church, the Bread of Life, Inc., is a non-profit 501 (c)(3) organization that provides solutions to the problems of homelessness, unemployment and hunger through sustaining, equipping and transforming the forgotten with compassion.
SOURCE: Columbia Records/Parkwood