Tonight Beyonce will be headlining the Sound Of Change Live concert which will be airing on BBC. Many big starts like Madonna, Jennifer lopez, Timberland, and more will also be participating in the huge event tonight! Beyonce is set to take the stage around 9 this evening but keep your eyes open on BW because we will have all the updates right here for you. The show is set to air tomorrow in the us on NBC but you can check out the live streams to live in the moment with the audience (stream 1, stream 2, stream 3)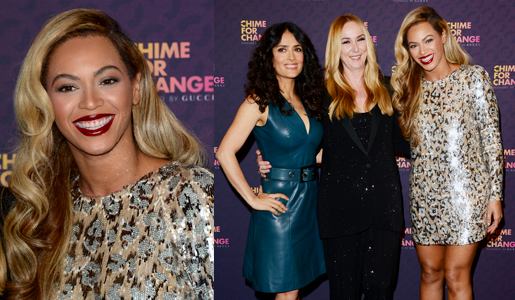 Beyonce was seen hanging backstage with Co-founders Salma Hayek Pinault and Creative Director of Gucci Frida Giannini. Click the photo above to see the rest in our gallery.
Setlist
1. Change Gone Come
2. At Last
3. Run The World
4. Survivor
5. Irreplaceable
6. If I Were A Boy
7. Crazy In Love
8. Single Ladies
9. Grown Woman
10. I Will Always Love You
11. Halo
Watch the full concert by clicking here.