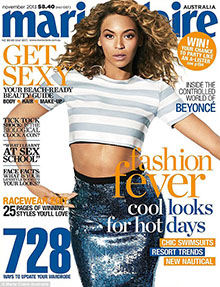 She gave birth to her daughter Blue Ivy in January of last year. And Beyoncé admits in a new interview that it was the connection she felt to her unborn child that helped her through the pain of labour. 'We were talking. I know it sounds crazy, but I felt a communication,' said the 32-year-old in the November issue of Marie Claire Australia.
She also said thinking about what her child was going through helped distract her from the pain of her birth. 'I felt like when I was having contractions, I envisioned my child pushing through a very heavy door,' said the singer. 'And I imagined this tiny infant doing all the work, so I couldn't think about my own pain.'
She also revealed she started to feel the maternal instinct late in her pregnancy.'I felt very maternal around eight months,' she said. 'And I thought I couldn't become any more until I saw the baby… But it happened during my labor because I had a very strong connection with my child.
Beyoncé showed off her sensational figure in a high-waisted sparkling blue skirt paired with a cropped striped T-shirt on the cover of the fashion magazine. She wore her highlighted hair in voluminous curls and sported a glowing complexion. The singer stared confidently into the camera as she posed with her arms in what appeared to be a dance move.
Beyoncé also opened up about her return to the spotlight after giving birth. 'I'm still completely nervous,' she said. 'I still feel pressure.' The entertainer admitted that she does read articles about herself, although she makes sure to never read the comments. 'Don't scroll down!' she said. 'You're definitely going to get your feelings hurt.'