What is power? At its base, it's the ability to reshape the world around you according to your vision. And who in the music industry did so better in the last year than this power couple?
Leveraging their star power to release new albums in unprecedented ways—Jay Z through Samsung and Beyoncé through iTunes—they instantly changed how the industry and fans thought about interacting with music. He gave his album away; she charged a premium price for hers. But they both used the element of surprise to restore the excitement that used to accompany a new release, before that impact was dulled by the endless thunder of carefully plotted promotion.
In short, they proved that content truly is king. Or, in this case, king and queen.

For years, Jay Z has been building the most powerful artist-driven empire in music, ever since he founded Roc-a-Fella Records in 1996 to bypass a music industry uninterested in his debut album, Reasonable Doubt. By 2004, he'd become president/CEO of Roc-a-Fella distributor Def Jam, and his concert stage would feature an Oval Office set (in a few years, his friendship with Barack Obama would get him much closer to the real thing). A major investor in Steve Stoute's Translation Advertising, he left Def Jam and founded the multifaceted entertainment group Roc Nation in 2008, in partnership with Live Nation. The company oversees a varied roster that includes Rihanna, Shakira, Stargate, Calvin Harris, Timbaland and Deadmau5, and, in partnership with Creative Artists Agency, has added sports to its oversight. And though he's cashed out his stake in NBA team the Brooklyn Nets, Jay Z remains an influential presence at Brooklyn's Barclays Center, which he helped open in 2012 with a series of concerts.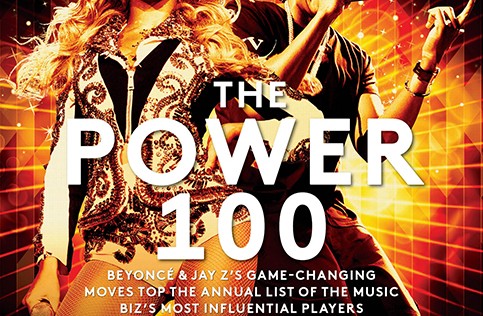 Since parting ways with father Mathew Knowles as her longtime manager in 2011, Beyoncé has proved through her Parkwood Entertainment just how powerful—and productive—a self-managed artist can be with Beyoncé. When the album arrived just before year-end 2013, it silenced months of whispers about delays, scrapped songs and missed deadlines, and it did so with 14 critically acclaimed songs accompanied by 17 jaw-dropping videos, all meticulously curated and co-edited by ­Beyoncé herself.
"Artists have always had the power but courage is in short supply. It's just that the hip-hop generation believes in the possibilities," says Lyor Cohen (No. 74), a longtime associate of Jay Z's from his days running Def Jam in the mid-'90s, and founder of new music venture 300. "Jay and Beyoncé don't listen to the noise—they make the noise."
The decision to release Jay Z's Magna Carta . . . Holy Grail for free exclusively for five days to 1 million Samsung customers was hailed as a major coup for Samsung to build buzz against rival Apple as it launched its Galaxy S4 smartphone. But the deal wouldn't have happened had Jay and a Roc Nation team led by business managers John Meneilly and Desiree Perez not been actively seeking a partner to help them forge "#newrules," as the rapper famously tweeted from his rarely used Twitter account on June 17.
"We've got to continue to find ways to put music in the hands of the fans, and I think this is a great way to do it," Big Machine Label Group CEO Scott Borchetta (No. 41) told Billboard at the time of the Jay Z announcement. "You've got to have cutting-edge ideas with cutting-edge companies who are ready, willing and able to reach a mass audience. It's great Jay Z is forcing all of us to think this way."
Then there's Beyoncé, Queen Bey's Dec. 13 midnight surprise, which arrived through a one-week exclusive, album-only release on iTunes. Like Jay Z's everything-at-once-release with Samsung, it shut out streaming, retail and individual track sales, forcing listeners to focus on the album as a cohesive work. The result seemed to transform everyone—industry executives, journalists, Twitter cynics, casual listeners—back into a fan.
"She took a high risk and was highly rewarded for it," says Guy Oseary (No. 38), who manages Madonna and U2 at his Untitled Entertainment. "I love what she did. Thank you, Beyoncé—it brings much-needed excitement and buzz to our industry."
Though there was great discussion of the game-changing implications of both releases—and whether they can ever be re-created—perhaps what's most important is that Jay Z and Beyoncé found ways to focus attention on music itself. For years label bosses have said that audiences will pay for music if they're excited, and that turns out to be true: Magna Carta . . . Holy Grail sold 528,000 in its first week, which beat Jay's previous recent releases, according to Nielsen SoundScan. In total, the album sold 1.1 million copies in 2013, one of only three rap releases to go platinum last year. Beyoncé moved even quicker with the singer's surprise blitz—in the first three hours of release the album sold 80,000 copies through iTunes and, sources say, 850,000 in the first week. In its four weeks of release it sold 1.3 million. That total was enough to make it the eighth-biggest-selling album of 2013 in less than a month.
"The release of Beyoncé's album was a great way to finish the year, and a chief reminder for me that artists, songwriters and producers have really good ideas," says Warner/Chappell Music president of creative for North America Jon Platt (No. 51), who brought both Beyoncé and Jay Z to the powerful publisher. "We're supposed to help them nurture and realize those dreams, not kill them. At times, experienced company executives can be so smart at outlining every reason why an idea can't work instead of focusing on how it can work. In the case of Beyoncé's album, her team focused on how it could work."
Island Def Jam and Columbia, Jay Z and Beyoncé's respective labels, worked closely with the artists and their management teams to execute these disruptive deals, but other label heads remain most impressed by the artists' take-charge approach. "Just watching [the Beyoncé] phenomenon happen was really exciting—and admittedly more enjoyable watching it from the sideline than being in the midst of it," says Republic Records president/COO Avery Lipman (No. 17). "It said, 'Look what a certain type of artist can do with the press of a button.'"
And RCA Music Group president/COO Tom Corson and CEO Peter Edge (No. 21) see the moves as part of a shift toward social media and partners outside the traditional label system. "The dynamic of social media moving the needle is now at the center of any smart campaign," Corson says. But more than ever, Edge argues, "finding [new] opportunities has become more significant—Jay Z with Samsung, Justin [Timberlake] with Target and Budweiser. It's not terribly new, but it seems like this is the new dynamic of the business—to find partners. We see ourselves as partners not only with the artists and their camps but with other companies and aligned businesses."
Source: Billboard