Beyoncé had no qualms sharing her favorite sex positions ("ride it with my surfboard") with the masses and she encourages all women to feel free to express their sexuality in the new issue of Out magazine.
"There is unbelievable power in ownership and women should own their sexuality," the pop diva told Out.
The gay and lesbian publication put Beyoncé on its 2014 May Power Issue. Queen Bey shocked the music industry when she quietly released her self-titled album on the iTunes store in Decemeber 2013. The album sold one million digital copies in six days and gave the singer her fifth consecutive number one album.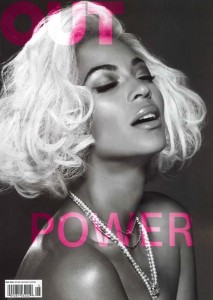 Beyoncé finds there's a "double standard" for women who want to express themselves as sexual beings.
"There is a double standard when it comes to sexuality that still persists," she told the magazine. "Men are free and women are not. That is crazy."
The wife of rapper Jay-Z and mother of daughter Blue Ivy believes no matter your occupation or personality, all women can revel in their sexuality.
"You can be a businesswoman, a mother, an artist, and a feminist – whatever you want to be – and still be a sexual being," the XO singer said. "It's not mutually exclusive."
Pick up the Out magazine Power Issue later this month.