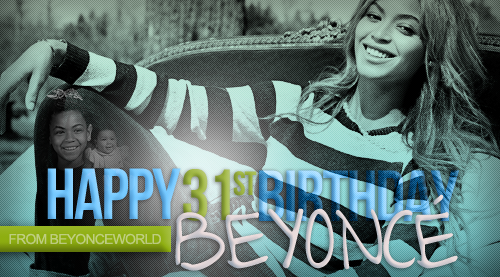 Dear Beyonce
Us over here at Beyonceworld would like to wish you a very Happy 31st Birthday! You have allowed us to watch you transform from a teenager to a women who has become a wife and most recently a mother and we have enjoyed every minute of it! We wish you nothing but joy, happiness, & love, not only on this very special day but also in your life. May god continue to bless you and your family and continue to be the beautiful spirited women you are. HAPPY BIRTHDAY!
Fans, don't forget to tweet Happy Birthday Beyoncé today! Lets make it a Trending Topic!
Update: Earlie this morning Beyonce's friends & Family took over Beyonce.com to say some very touching words for the birthday girl! To view what they had to say Click Here
Update: Happy Birthday Beyoncé Is trending worldwide on twitter!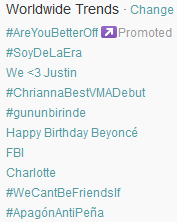 Be sure to keep tweeting
Happy Birthday Beyoncé
and make sure you follow us on twitter
@TheBeyonceWorld
&
@DevonBW
, Also Instagram
@thebeyonceworld
.
Update: Beyhive you MUST see this video. Beyonce's International fans created a sweet Happy Birthday video. Job well done!