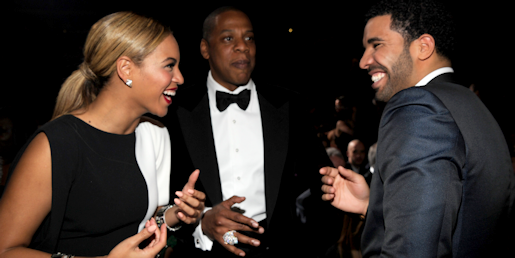 Girls love Beyoncé, and so does Drake. In an interview with Ryan Seacrest, the Canadian rapper praised the pop diva and revealed that they have collaborated for her upcoming album.
During the 30-minute sit-down, he broke down each track on his new album Nothing Was the Same and spoke about Beyoncé's impact on pop culture.
"I'm a Beyoncé believer," said Drizzy, who paid homage to Bey on his track "Girls Love Beyoncé." "I really believe strongly in her talent and her position in our generation. I think she's one of the biggest stars ever, but especially for these girls right now. I feel like they need Beyoncé."
He also confirmed that the two have been in the studio together. "I reached out to her and asked if I could come and be a part of her project and she was kind enough to invite me out there. And we did some work together."
The collaboration came together when he was in the same building as Jay Z, Timbaland, Swizz Beatz, and Justin Timberlake, who he considers one of his mentors.
"He is somebody that gives me the best advice in the world, that's very open about his experiences and encourages me to act," said Drake of the pop superstar.
It was Timberlake who encouraged him to rap 24 bars on "Cabaret," which appears on The 20/20 Experience – 2 of 2. "That was Justin's idea, not mine," he said.
Plus, he spoke about his mother's reaction to his lyrics, his biggest fear, and his plans to return to acting once he's done touring. Check out the interview by clicking here.
Source: Rap-Up.com