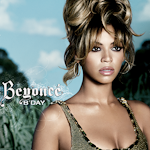 Release Date: September 4, 2006
Label: Columbia, Music World
Genre: R&B, soul
Length: 37:40
Click the link to watch The Music Video
"Déjà Vu" (featuring Jay-Z)
"Upgrade U" (featuring Jay-Z)
"Resentment"
Promotional Photo's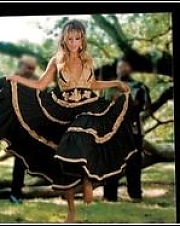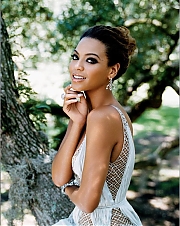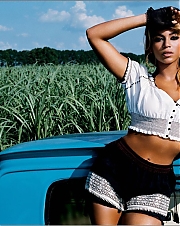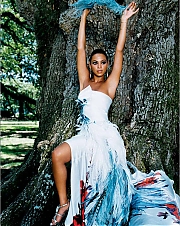 Producers
Beyoncé Knowles (also exec.), Swizz Beatz, Sean Garrett, Rich Harrison, Darkchild, Walter Millsap III, The Neptunes, Ne-Yo, Shea Taylor, Stargate, Cameron Wallace
Singles
1. "Déjà Vu"
Released: June 24, 2006
2. "Ring the Alarm"
Released: September 10, 2006
3. "Irreplaceable"
Released: October 26, 2006
4. "Beautiful Liar"
Released: March 5, 2007
5. "Get Me Bodied"
Released: July 10, 2007
6. "Green Light"
Released: July 30, 2007
Critical Response
B'Day received generally positive reviews from music critics. At Metacritic, which assigns a normalized rating out of 100 to reviews from mainstream critics, the album received an average score of 70, based on 23 reviews, which indicates "generally favorable reviews". Bill Lamb of About.com complimented it for exuding the "work of a woman with focus, energy, empathy, and vocal firepower to spare", giving it four and a half stars out of five. Entertainment Weekly's Jody Rosen commented that "the songs [in the album] arrive in huge gusts of rhythm and emotion, with Beyoncé's voice rippling over clattery beats". Jonah Weiner of Blender gave the album four out of five stars and commented that "sweaty up-tempo numbers prove the best platform for Beyonce's rapperly phrasing and pipe-flaunting fireballs". The Boston Globe's Sarah Rodman commented that the production team helped Knowles "focus on edgier, up-tempo tracks that take her sweet soprano to new places". Billboard's Gail Mitchell wrote that "throughout [the album], she romps with creative abandon, thankfully unafraid of stretching the boundaries lyrically and musically". Sal Cinquemani of Slant Magazine compared the album to the work of Destiny's Child and wrote," B'Day is reminiscent of Knowles' former group at their commercial peak". In his consumer guide for MSN Music, critic Robert Christgau gave B'Day an A- rating and wrote favorably for it themes concerning wealth and empowerment: "On most of them she's wronged yet still in control because she's got so much money".
However, some critics deemed the album's production weak. Roger Friedman of Fox News reviewed the album negatively and stated that "the result of so many cooks in the kitchen … is that … Beyoncé serves up a [mix of] … shrill singing and invariably tuneless songs". Rolling Stone magazine's Brian Hiatt averred that "while the mostly up-tempo disc never lacks for energy, some of the more beat-driven tracks feel harmonically and melodically undercooked, with hooks that don't live up to 'Crazy in Love' or the best Destiny's Child hits". Mike Joseph of PopMatters stated that "the album is solid", but because of its rushed production, he counter-argued that "aside from its relatively short running time, its sound suspiciously under produced". Los Angeles Times writer Richard Cromelin gave the album three out of four stars and commented that "Some of the experiments don't click, but by reconfiguring and repurposing century-spanning components of black music […] she's gained an artistic high ground". Andy Kellman of Allmusic stated that Knowles' "hurryness" in the album produced "no songs with the smooth elegance" of "Me, Myself and I" or "Be with You"; he however added, "there is nothing desperate or weak about this album". The Guardian's Caroline Sullivan wrote favorably of the album's female-oriented themes and stated "Apart from a few pop-R&B space-fillers, there's not much to dislike about B'Day".
The album was nominated for five Grammy Awards, including "Best Contemporary R&B Album", "Best Female R&B Vocal Performance" for "Ring the Alarm" and "Best R&B Song" and "Best Rap/Sung Collaboration" for "Déjà Vu". The Freemasons club mix of "Déjà Vu" without the rap was put forward in the "Best Remixed Recording, Non-Classical" category. B'Day won the award for "Best Contemporary R&B Album" at the 49th Grammy Awards. The following year, B'Day received two Grammy nominations for Record of the Year for "Irreplaceable" and Best Pop Collaboration with Vocals for "Beautiful Liar". In the same year, she also received a Grammy nomination for her work on Dreamgirls.