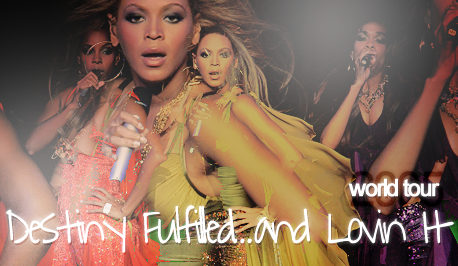 SETLIST:
01. "Say My Name"
02. "Independent Women Part I"
03. "No, No, No Part 2"
04. "Bug A Boo"
05. "Bills, Bills, Bills"
06. "Bootylicious"
07. "Jumpin' Jumpin'"
08. "Soldier"
09. (Kelly's Solo) "Dilemma"
10. (Michelle's Solo) "Do You Know"
11. (Beyoncé's Solo) "Baby Boy", "Naughty Girl"
12. "Cater 2 U"
13. "Girl"
14. "Free"
15. "If"
16. "Through With Love"
17. (Kelly's Solo) "Bad Habit"
18. (Beyonce Solo) "Dangerously In Love", "Crazy in Love"
19. "Salsa Dance Break (contains elements of "Get Right", "Goodies", "1 Thing" and "Crazy in Love")
20. "Survivor"
21. "Lose My Breath"
TOUR FACTS:
Destiny Fulfilled … And Lovin' It Tour was a massive worldwide 2005 concert tour by the reunited American female R&B trio Destiny's Child, that visited 16 countries throughout Australia, Japan, Middle East, Europe, and North America with 67 dates in total.
The U.S. leg of the tour grossed approximately $70.8 million dollars according to Billboard magazine and was the highest-grossing tour for either a pop or R&B band since TLC's FanMail Tour.
Supporting acts on the North American leg of the tour included the likes of Keshia Chanté, Chris Brown, Amerie, Mario, Teairra Mari, and Tyra Bolling.
During the last stop of their European tour in Barcelona on June 11, 2005, Kelly Rowland suddenly announced "This is the last time you would see us on stage as Destiny's Child" meaning that the group was going to go their separate ways following the tour.

We have been working together as Destiny's Child since we were 9, and touring together since we were 14. After a lot of discussion and some deep soul searching, we realized that our current tour has given us the opportunity to leave Destiny's Child on a high note, united in our friendship and filled with an overwhelming gratitude for our music, our fans, and each other. After all these wonderful years working together, we realized that now is the time to pursue our personal goals and solo efforts in earnest. … No matter what happens, we will always love each other as friends and sisters and will always support each other as artists. We want to thank all of our fans for their incredible love and support and hope to see you all again as we continue fulfilling our destinies.
The announcement was surprising not least because the trio had downplayed rumors of a split in the wake of Knowles' success with Dangerously in Love, although prior plans had called for the members to focus on solo projects at the end of the tour.
A performance from the tour was filmed in Atlanta at Philips Arena on July 15, 2005, and the resulting DVD Destiny's Child Live in Atlanta was released on March 28, 2006. RIAA subsequently certified the DVD as Platinum.

TOUR PHOTOS:

To view more of these photos, simply click on the ones on top.
TOUR DATES:
Date
City
Country
Venue
Asia
April 9, 2005
Hiroshima
Japan
Hiroshima Sun Plaza
April 11, 2005
Osaka
Osaka-jō Hall
April 12, 2005
Nagoya
Nagoya Rainbow Hall
April 14, 2005
Tokyo
Budokan
April 15, 2005
April 16, 2005
Yokohama
Yokohama Arena
Australia
April 27, 2005
Brisbane
Australia
Brisbane Entertainment Centre
April 28, 2005
Sydney
Sydney Superdome
April 29, 2005
Adelaide
Adelaide Entertainment Centre
April 30, 2005
Melbourne
Rod Laver Arena
Middle East
May 12, 2005
Dubai
U.A.E.
Dubai Media City
Europe
May 14, 2005
Saint-Jean-Cap-Ferrat
France
Private Party
May 15, 2005
Oslo
Norway
Oslo Spectrum
May 17, 2005
Stockholm
Sweden
Globen
May 19, 2005
Hamburg
Germany
Colorline Arena
May 21, 2005
Stuttgart
Schleyerhalle
May 22, 2005
Hasselt
Belgium
Ethias Arena
May 23, 2005
Rotterdam
Netherlands
Ahoy' Rotterdam
May 24, 2005
May 26, 2005
Milan
Italy
Filaforum
May 27, 2006
Geneva
Switzerland
SEG Geneva Arena
May 28, 2005
Paris
France
Palais Omnisports de Paris-Bercy
May 30, 2005
Frankfurt
Germany
Festhalle
May 31, 2005
Cologne
Cologne Arena
June 2, 2005
London
England
Earls Court Exhibition Centre
June 3, 2005
June 5, 2005
Birmingham
National Indoor Arena
June 6, 2005
Manchester
MEN Arena
June 7, 2005
Sheffield
Hallam FM Arena
June 9, 2005
Dublin
Ireland
Lansdowne Road
June 11, 2005
Barcelona
Spain
Palau Sant Jordi
North America
July 2, 2005
New Orleans
United States
Louisiana Superdome
July 9, 2005
St. Louis
Savvis Center
July 10, 2005
Memphis
FedExForum
July 12, 2005
Nashville
Gaylord Entertainment Center
July 15, 2005
Atlanta
Philips Arena
July 16, 2005
Tampa
St. Pete Times Forum
July 20, 2005
Pittsburgh
Mellon Arena
July 22, 2005
Charlotte
Verizon Amphitheatre
July 23, 2005
Virginia Beach
Verizon Amphitheatre
July 24, 2005
Raleigh
Alltel Pavilion at Walnut Creek
July 28, 2005
Albany
Pepsi Arena
July 29, 2005
New York City
Madison Square Garden
July 30, 2005
Uniondale
Nassau Coliseum
July 31, 2005
Washington, D.C.
MCI Center
August 3, 2005
Uncasville
Mohegan Sun Arena
August 5, 2005
Philadelphia
Wachovia Center
August 6, 2005
Boston
TD Banknorth Garden
August 7, 2005
Hershey
Hersheypark Stadium
August 9, 2005
Montreal
Canada
Bell Centre
August 10, 2005
Toronto
Air Canada Centre
August 12, 2005
Cleveland
Gund Arena
August 13, 2005
Columbus, OH
Nationwide Arena
August 14, 2005
Auburn Hills
The Palace of Auburn Hills
August 15, 2005
Chicago
Charter One Pavilion
August 19, 2005
San Antonio
SBC Center
August 20, 2005
Houston
Toyota Center
August 21, 2005
Dallas
American Airlines Center
August 23, 2005
Denver
Pepsi Center
August 26, 2005
Las Vegas
Mandalay Bay Events Center
August 27, 2005
Phoenix
America West Arena
August 28, 2005
Albuquerque
Journal Pavilion
September 1, 2005
Anaheim
Arrowhead Pond
September 2, 2005
Los Angeles
Staples Center
September 3, 2005
Oakland
Oakland Arena
September 4, 2005
Reno
Reno Events Center
September 7, 2005
Spokane
Spokane Arena
September 9, 2005
Seattle
KeyArena
September 10, 2005
Vancouver
Canada
GM Place
ADDITIONAL NOTES
– There were no additional notes for this tour.