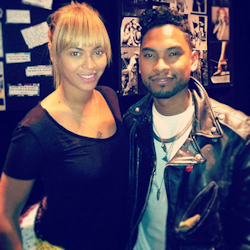 One can't deny that Beyoncé knows how to choose her collaborators. She's worked with The-Dream, Frank Ocean, Shakira, husband, Jay-Z, and now Miguel.
The singer-songwriter, who recently worked with Alicia Keys on "Kaleidsocope Dream" track, "Where's the Fun in Forever," teams up with King B.
Earlier that night (Tues. Oct. 30), Miguel shared a photo on instagram of himself and Bey' at a studio session. "… woah. creating for Virog's all weekend," Miguel tweeted.
There aren't details as to whose project we can expect to hear the magic their creating. I'm crossing my fingers and toes it's for an upcoming full-length of Bey's.
Wouldn't it be amazing if Bey' debuted a MIguel-assisted song during Super Bowl?
Credit: Billboard