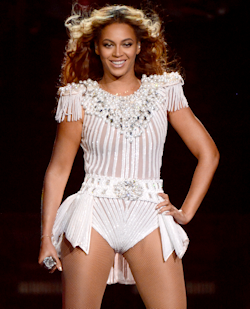 Beyonce is the greatest entertainer of her generation — a fact she cemented last night (June 28) with a dazzling display at the Staples Center in Los Angeles. When it comes to singing and dancing simultaneously, Jay-Z's better half is simply in a league of her own. Anyone with a functional television has known that at the very least since Super Bowl. What she hasn't quite been able to master until now is the theatrical aspect of performance. Bey is an old school diva at heart. Give her a microphone, some sheet music and a durable wig and she will blow your mind. The Mrs. Carter Show, however, demands a lot more than that. And the 31-year-old rises to the occasion.
As massively entertaining as the I Am… World Tour was, it succeeded largely on Beyonce's extraordinary talent. The production itself was fairly uninspiring. This time, no expense is spared. The Mrs. Carter Show is a concert extravaganza in the style of Michael Jackson or Madonna. It's a big budget affair with pyrotechnics, stunning couture costumes and jaw-dropping projections. You might pay a little more for the ticket but you see every cent on stage. The real triumph is not so much incorporating those assets into the show as not being overwhelmed by them. Blue Ivy's mom blends the visual aspect with her music seamlessly — taking the audience on one hell of a ride.
For a song that stiffed on the charts, "Run The World (Girls)" certainly feels iconic. When the curtain dropped and those drums started rolling, you could feel the energy in the room soar. There's something so wild and celebratory about the track that makes it the perfect opening number and Bey taps into that brilliantly with electric choreography and a killer vocal. She really is breathtaking to watch up close. It seems impossible that such a big voice could come from such a tiny body, particularly when dancing like a woman possessed. That was followed by an equally impressive rendition of the best Beyonce single never released (ie. "End Of Time").
The prolific letter writer then dedicated B'day album track "Flaws And All" to the BeyHive, amusing everyone by squeezing her (basically non-existent) arm fat to prove that she's not perfect. I'm still not convinced. Particularly when she can get changed into an entirely different outfit in the blink of an eye without missing a note or dance step, returning to belt out "If I Were Boy" and live favorite "Get Me Bodied". The pride of Houston ended the segment with hits "Baby Boy" and "Diva".
The Mrs. Carter Show excels visually, in part, due to the quality of the projections. They are beautifully filmed and look very expensive. More importantly, they create atmosphere and add another layer to the production. Speaking of additional layers, Beyonce pulls out all the stops for "Naughty Girl" — dancing seductively in front of an open fire. It's quite a sight to behold. As is the Las Vegas showgirl-themed presentation of "Party".
If you need further proof of the diva's new theatrical bent, look no further than "Freakum Dress". A pair of ballerinas do their thing on stage before Queen B and her dancers take over. Or how about the rock opera interpretation of "I Care"? Michael Jackson has always been one of the Beyonce's biggest influences and his bandaged fingers are all over this well-executed "Dirty Diana" tribute. The 4-era gems kept coming with "I Miss You" and the brilliant bonus track "Schoolin' Life". The Epic star went all out with '80s neon lights and one of the show's cutest dance routines. If she's really against releasing new material until after the tour, can I suggest this anthem get a belated release?
It's impossible to single out one moment as the evening's highlight, so I'll try to narrow it down to two. "Why Don't You Love Me?" is an absolute showstopper. From the Beyonce-hams-it-up-in-a-vintage-plane video montage to her 1920s fringed dress and big band interpretation, this is a near perfect multi-media production. The second is "1+1″ — a performance so bold, King B is the only woman with enough talent and ambition to pull it off. She delivered her best vocal performance of the night, writhing around on top of a baby grand piano like Michelle Pfeiffer in The Fabulous Baker Boys — complete with enough weave whipping to make RuPaul dizzy — before jumping up and zip-lining across the arena (while still singing in key) to land on a second stage. Singing while being suspended above the crowd has been done by everyone from P!nk to Katy Perry but never quite like this.
Bey performed "Irreplaceable" and "Love On Top" from her new location before dedicating "Survivor" to her "beautiful sisters" Kelly Rowland and Michelle Williams. The second stage is a nice touch, allowing the amiable diva to get up close and personal with fans. She had a couple of sing-a-longs and charmed everyone by easy-going nature. Then it was back to the main stage for "Crazy In Love" and "Single Ladies". We've all heard them many, many times but the new brassy arrangements work nicely and it wouldn't be a Beyonce show without those tunes.
While the Staples Center wasn't treated to the brilliance of "Standing On The Sun", Los Angeles did get "Grown Woman". It speaks volumes about the way music is disseminated these days that fans knew every single word. You would think Bey was belting out a number one hit, not a leaked track that you can't legally purchase anywhere. Like "Run The World (Girls)", "Grown Woman" takes on a life of its own in a live environment and the colorful African-themed costumes and projection make it even more charming. That only left a quick half-cover of "I Will Always Love You" to pay homage to Whitney Houston before finishing with "Halo".
Beyonce is so far ahead of the game that we've almost become immune to her greatness. Everything about the concert screamed quality. Perhaps it's time to stop worrying about her next era and enjoy this one. It's brilliant. The Mrs. Carter Show showcases an icon at top of her game. Get a ticket any way you can.