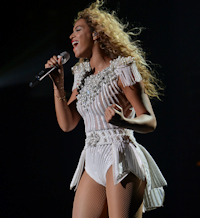 CURRENTLY touring the world with dates spanning the Americas, Australia and New Zealand until the end of the year, Beyoncé is in no doubt what she misses most while on the road.
"I want to have some ice cream or Krispy Kreme doughnuts! There's too much good food out there," says the 32-year-old who puts herself on a strict diet while touring to ensure she retains her trademark bootylicious body.
Yet once the tour comes to an end – in Brooklyn in December – she plans to make up for lost time.
"After the tour, I feel like I've earned the right to eat what I want." Story of our lives, Beyoncé.
Source: Express.co.uk