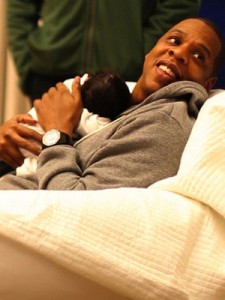 Jay-Z's efforts to be a good father to baby Blue Ivy have not gone unnoticed. The hip-hop mogul was nominated for Premier Inn Celebrity Dad of the Year recently.
Jay-Z's daughter was born in January to first-time mum Beyoncé. Blue Ivy has been doted on by her parents since her birth, when they hired out an entire hotel suite. Jay-Z recently stated he looked forward to spoiling Blue Ivy rotten and went on to add she would probably be the most spoiled little girl in the world.
Other stars who have been shortlisted for the award are Sir Elton John, Jack Osbourne and Rod Stewart. In an interview on the TV programme Oprah Presents Master Class, the hip-hop star stated Blue Ivy would be treated like a princess all her life.

"I imagine I'll take things I learned from my mom and things I've learned from raising my nephews and apply that. Then at the end of the day, I just know I'll probably have the worst, spoiled little kid ever," he was quoted as saying.
Celebrities have also showered Beyoncé and Jay-Z's daughter with expensive gifts. Gossip site Inquisitr reported she had received a designer stroller from Gwyneth Paltrow, a Bob Marley inspired gift from Destiny's Child member Kelly Rowland and an iPod filled with tunes specially curated by Roots drummer Questlove.
Jay-Z is currently on tour with Kanye West in the UK. The hip-hop duo have performed in several UK cities for their Watch the Throne tour.