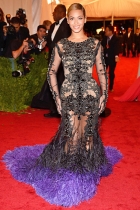 During an interview event hosted by the Savannah College of Art and Design over the weekend, Andre Leon Talley, who accompanied a very late Beyonce on the red carpet at this year's Met Gala, dished on why the star was the last one to arrive.
"Beyonce was not slated to come," he said. "She decided to come last minute when the dress arrived at her house. She tried it on and then she said, 'Okay, I have to come.' She did arrive at 8:55 and the ball had already started, but it didn't matter because she is Beyonce."
At the recent Met Gala, Beyonce showed off her incredible post-baby body in a sheer black embroidered Givenchy Haute Couture gown with a purple ombre feathered train.