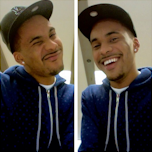 We lost a member of the BeyHive last week on July 4th due to an act of gun violence. Dennis Tillet was shot down and killed in South L.A.'s Hyde Park neighborhood during a shooting, he was only 25. Beyonce took to her website to express her feelings about Dennis who was a huge beyonce fan.
My heart breaks to learn of the passing of one of my biggest fans and a loyal member of the BeyHive. Dennis Herbert Tillet was taken in a random act of violence on July 4th when he was shot and killed by a stray bullet.
Dennis was loved and admired by his friends and family. He was funny and brilliant, graduating from the prestigious Morehouse College. His beautiful smile will be missed and this short inspired life is gone too soon. My deepest condolences to his family, many friends and loved ones.
Life is precious and we are reminded everyday to live each day to its fullest and love each other. Much love BeyHive, -B
Our heart and prayers go out to Dennis's family & friends. May you Rest In Peace.