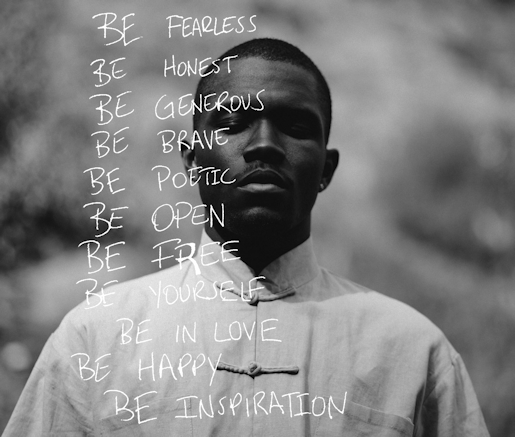 After revealing details about his sexuality in the liner notes for his upcoming LP Channel Orange (via Tumblr) R&B crooner Frank Ocean has received glowing support from the hip-hop community at large. In addition to praise for his bravery and honesty from luminaries like Russell Simmons and Jay-Z, Ocean received a lovely gesture of support from Beyonce.
On July 7, Bey took to her website, posting a black-and-white photo of a serious, stoic-looking Ocean. Over the image is a poem, reading: "Be fearless/ Be honest/ Be generous/ Be brave/ Be poetic/ Be open/ Be free/ Be yourself/ Be in love/ Be happy/ Be inspiration."
Ocean, who wrote "I Miss You" off of Beyonce's 4 and contributed hooks to two tracks on Jay-Z and Kanye West's Watch The Throne LP, is the latest to receive Bey's artful support on gay issues. In an interview last year with PrideSource, the pop star singled out her homosexual fans for their bravery and truthfulness.
"The amount of confidence and fearlessness it takes to do what maybe is not what your parents expect you to do or what society may think is different – to be brave and be different and to be yourself – is just so beautiful," she said. "Not worrying about satisfying or becoming what other people think you're supposed to be, that's like the ultimate dream."
Credit: MTV.com