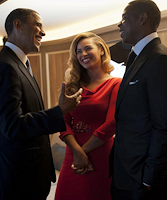 Beyonce and Jay-Z raised $4 million (£2.46 million) for US President Barack Obama's re-election campaign after they hosted a fundraiser.
The event was held at Jay-Z's 40/40 club in New York last night (September 18) and saw 100 ticket buyers charged $40,000 (£24,618) each to get in, reports the Washington Post.
During the evening, the US president joked that he had a lot in common with the million-selling rapper, telling the audience: "Jay-Z now knows, you know, what my life is like. We both have daughters. And our wives are more popular than we are… So we've got a little bond there. It's hard, but it's okay."
Obama also praised Beyonce, describing her as a positive role model for his own daughters and saying of her: "She carries herself with such class and poise, and has so much talent."
Obama will stand against the Republican candidate Mitt Romney in the US presidential elections on November 6.
Jay-Z and Beyonce have long been supporters of Obama, playing at a tribute concert to the President in 2008 before he took his oath of office. Last week, Obama appeared in a video clip to open Jay-Z's Made In America festival in Philadelphia, urging the crowd to go out and vote. Beyonce has also voiced her support for Michelle Obama.
Beyonce and Jay-Z are not the only musicians to get behind Obama's 2012 re-election campaign. Last month, Brooklyn band The National played a rally for the incumbent president in Iowa.
Earlier this month, the Foo Fighters dedicated their track 'My Hero' to Obama when they played a two-song acoustic set at the Democratic National Convention.