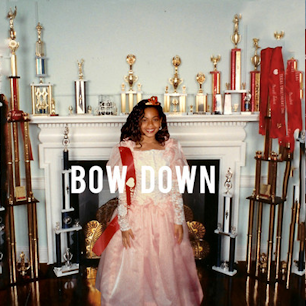 The artwork features a tiara-wearing Beyoncé Knowles, age 10 or so, in a room crammed with trophies. The lyrics make the message clear:
"I'm the number-one chick, I don't need no hype."
Musically, this Hit Boy-produced diptych is a homage to B's hometown, Houston, with a woozy "Bow Down" beat that segues into a chopped-and-screwed rap. In "I Been On," her voice is pitch-shifted to make her sound like a 400-pound thug as she gets in touch with her inner Pimp C:
"Gold everything/Gold-ass chain/Gold-ass rings/Gold-ass fangs"
All in all, it's her most aggressive song ever: a shot at the diva competition and a warning to anyone who'd take the wrong message from the title of her forthcoming LP, Mrs. Carter:
"I took some time to live my life/But don't think I'm just his little wife."
When she sings, she growls; when she raps, she sneers. Bow down – or at least take cover. To check it out on Rolling Stone click here.