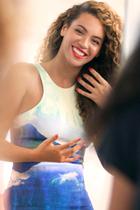 This week marks the start of Beyoncé's sold-out Mrs. Carter Show World Tour, but it's not the only thing the superstar launches this season. She's also got a huge campaign for H&M, shot in the Bahamas and featuring her new song, "Standing on the Sun," available on hm.com this May.
One special piece Beyoncé models in the ads? A tie-dye bikini that's part of the H&M for Water collection, which donates 25% of sales to the international charity WaterAid.
Despite her busy (and oh-so-fabulous) life, Beyoncé told ELLE.com about her newest campaign. There are also two exclusive behind-the-scenes images from the fashion shoot, where legendary photographers Inez & Vinoodh and filmmaker Jonas Åkerlund collaborated with the pop star. Click the link to
ELLE: Tell us about your experience shooting the campaign for H&M.
Beyoncé: I loved shooting the campaign in the Bahamas. We shot on a beach outside of Nassau and the weather was perfect. The shoot was filled with vibrant colors and was inspired by the glamour of the late '70s.
ELLE: How was it to work with the director Jonas Åkerlund?
Beyoncé: It was incredible to work with Jonas again. We had a great time shooting the TV commercial for the Mrs. Carter Show World Tour, so I was looking forward to working with him again. He has such a great imagination and I love seeing his visions come to life.
ELLE: Where does your own fierce and fabulous style come from?
Beyoncé: Well, thanks for the compliment! I think my style comes from watching my mother from the time I was a little girl. She was so stylish. She was the first person I saw mix high-end pieces with more accessible styles and make it all work. I'm also inspired by my sister [Solange Knowles]; I love her bold approach.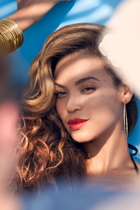 ELLE: What kind of clothes or items do you like to wear?
Beyoncé: I like sexy but classic pieces. I love prints and patterns, [and] mixing textures as well as solid colors.
ELLE: How do you decide what to wear?
Beyoncé: It depends on how I'm feeling that day, and luckily I have great, honest people around me to help. My stylists, Ty Hunter and Raquel Smith, are an influential part of the process.
ELLE: How do you dress in the summer?
Beyoncé: I love the summer. I'm always in shorts, dresses, light flowing fabrics, [and] great sandals.
ELLE: Do you do any charity work?
Beyoncé: Absolutely. My parents taught my sister and me the importance of giving back and making a difference in another person's life. I work closely with a number of charities from food pantries to drug rehabilitation to natural disaster relief to preventing sexual exploitation of young girls. It is one of the most rewarding things I do.