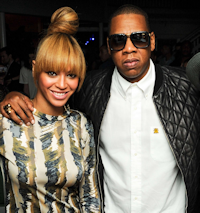 Jay Z and Beyonce Knowles are so much more than just the first couple of hip-hop: They're a combination of two of the savviest businesspeople in entertainment. They made more than any other celebrity couple this year with an estimated $95 million in earnings between June 2012 and June 2013.
Both are musicians at the top of their games, with multiple hits under their belts. Jay Z's recent Watch the Throne album went platinum and launched a world tour that brought in $1.4 million per night in America. Knowles, who took a short break when her daughter Blue Ivy was born in January last year, was back with a vengeance this year with her Mrs. Carter world tour, which grossed an average $2 million per night.
Then there are their other interests. Jay Z is a part owner of the new Barclays BCS -2.18% Center in Brooklyn, where the Brooklyn Nets play. He sold his stake in the team and now has to dump his share in the arena, too, because he's started his own sports agency: Roc Nation Sports, which represents star athletes like Kevin Durant and Victor Cruz. Knowles has a fragrance collection and a clothing line called House of Deron. Blue Ivy could soon join the family business. She's already been on one of her Dad's songs and her parents have petitioned to trademark her name for the right to use it on anything from baby clothes to toys.
Bey and Jay earned $15 million more than the No. 2 couple on our list: Tom Brady and Gisele Bundchen. Like Jay Z and Knowles, Brady and Bundchen have used their fame to build bigger businesses around themselves. We estimate the couple earned a combined $80 million between June 2012 and June 2013. The highest-paid model in the world, Bundchen out-earned her football star husband by $4 million. In addition to her modelling money, Bundchen earns big off of her line of flip-flops from Brazilian footwear company Grendene. She is a part owner of the company, and its shares have doubled since 2012.
Source: Forbes.com