There might be no more anticipated Spring 2019 collection than Riccardo Tisci's debut for Burberry. The Italian designer has teased his return to fashion with 24-hour product drops and coy Instagram posts—and even created a costume in the house's iconic check for his longtime collaborator Beyoncé to wear for her On the Run II tour this summer. Now he's shared another custom creation for the reinvented brand with Vogue—and enlisted the pop icon as his muse yet again. The piece, which was exclusively made for Beyoncé, reimagines the iconic trenchcoat as a dress in pale pink satin encrusted with pearls—a far cry from the expected tan-and-tartan classic and a testament to Tisci's inventiveness. Unapologetically feminine and rich with delicate detail, it reads as a celebration of womanhood—especially on the back of one of the world's most powerful stars.
Beyoncé has served as Tisci's friend and creative inspiration for years. He has outfitted her for four Met Galas in a row and created the sultry costumes for her Mrs. Carter extravaganza. And the singer's enthusiasm for his work was evident on the Vogue set, according to Vogue Fashion Director Tonne Goodman. "I think she loved [the look] and thought it was beautiful," Goodman says.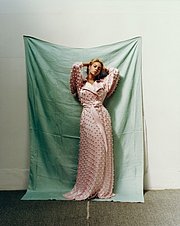 The image—captured by Tyler Mitchell during the shoot for Vogue's September issue—was part of a day marked by a spirit of community. "The whole atmosphere of the shoot had this wonderful camaraderie. We worked very closely with her creative director, Kwasi Fordjour, and stylist, Zerina Akers. Everyone was really honored that we were there together—it was a collaborative experience," Goodman says. "It wasn't an instance of her coming out of a Winnebago in a dress I'd picked out; it was much more than that. She was supposed to leave at 6, but she stayed until last light."
The sumptuous trench dress bodes well for Tisci's reinvention of Burberry, which will no doubt be the highlight of London Fashion Week. Though it remains to be seen whether Beyoncé will make an appearance in the front row, her radiant presence in this sneak preview suggests that many more memorable fashion moments from the duo are yet to come.