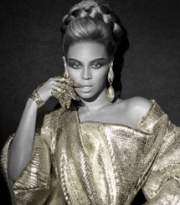 FORBES: It took us a while to come around to the notion that celebrities—actors, singers and entertainers—could be counted among the world's most powerful women. It wasn't until 2010, in fact, a full seven years after FORBES inaugural list, that any entertainer with the exception of Oprah (who, to be fair, is a multi-hyphenate philanthropist with some of the world's deepest pockets) was counted in the ranks.
While Oprah still reigns supreme as the empress of celebrity power, we stay true to the precedent set in 2005 when we began our search of the women who most impacted the world over the past twelve months.
Beyonce took up with the Obama administration in 2012, lending her support to the First Lady's healthy eating and fitness initiatives for children in the U.S. The "Get Me Bodied" music video she made for the campaign has been viewed more than 22 million times on YouTube. This year she has been listed as #3 on the FORBES's Celebrity Power Women List. She's also #34 on overall Most Powerful Women List and #16 on Most Powerful Celebrity List. Check out other her listings at Forbes here.
FORBES Celebrity Power Women 2012
1. Oprah
2. Lady Gaga
3. Beyoncé
4. Jennifer Lopez
5. Shakira
6. Ellen DeGeneres
7. Angelina Jolie
8. Sofia Vergara
9. JK Rowling
10. Gisele Bundchen