After a one-week vacation from the top slot on the Billboard 200 chart, Beyonce is heading back to No. 1.
The diva's self-titled set could sell around 85,000 to 90,000 copies by the end of the tracking week on Sunday, Jan. 12, according to industry forecasters. If it returns to No. 1, it will mark the fourth non-consecutive week atop the list for "Beyonce."
Meanwhile, the current chart champ, the soundtrack to Disney's "Frozen" movie, will probably dip to No. 2 with around 75,000. The "Frozen" set stormed to No. 1 this past week on the chart, selling 165,000 copies in the week ending Jan. 5, according to Nielsen SoundScan. It bumped "Beyonce" out of the No. 1 position after a three-week reign.
The top 10 of next week's Billboard 200 chart will be revealed on Wednesday, Jan. 15.
The highest new entry on next week's list will likely be rapper Kid Ink's major label full-length album, "My Own Lane," with around 40,000 or so. That should place it around No. 3 on the chart. It should be the only debut in the top 10 next week.
The rest of the top 10 should be populated with holdovers by the likes of Eminem's "The Marshall Mathers LP 2" (maybe 35,000), Lorde's "Pure Heroine" (30,000) and One Direction's "Midnight Memories" (25,000).
On SoundScan's Building chart (below), "Beyonce" leads at No. 1, while Kid Ink and the "Frozen" soundtrack are Nos. 2 and 3, respectively. The Building tally is a precursor to the final Billboard 200 ranking — reflecting the first four days (Monday through Thursday) of SoundScan's tracking week as reported by six major merchants.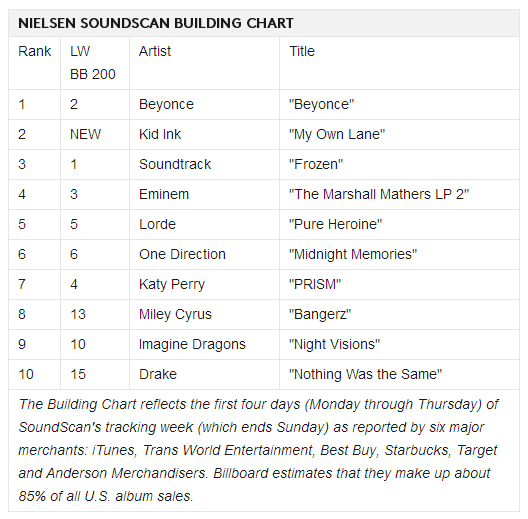 As for the rest of the top 10: Eminem, Lorde and One Direction are Nos. 4-6, while Katy Perry's "PRISM" is No. 7. Miley Cyrus' "Bangerz" is No. 8, Imagine Dragons' "Night Visions" is No. 9 and Drake's "Nothing Was the Same" rounds out the Building Chart's top 10 at No. 10.
Source: Billboard